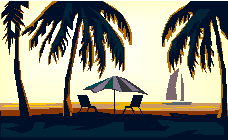 Our Chapter was founded in 1993. Any Sigma alumnae who lives in the Miami-Dade and Broward County areas are welcome to join the South Florida Alumnae Chapter. Members are frequently updated by email and sometimes by U.S. postal mail and telephone calls but mainly by email. If you are interested in joining our chapter please fill out our questionnaire or email us.

The 2007-2008 calendar of meeting dates have been updated (as of 09/01/2007). Please go to Current Meeting Dates for those dates. We hope to see you at one of them.

Also, recruitment for the Zeta Epsilon chapter begins on September 5th at FIU. Please email me at sigma3sfla@yahoo.com for the specifics. The schedule is as follows: September 5th - Sorority 101 beginning at 7:30pm. September 6th - Philanthropy Night beginning at 7pm. September 7th - Sisterhood and Traditions beginning at 7pm. September 8th - Pref Night beginning at 6pm. And September 9th - Bid Day. It would be great to get a lot of alumnae to attend at least one of their parties so we can show our support to the local collegiates at Zeta Epsilon.

Please view our pictures of past meetings here

.

Join Our Chapter

Join Our Email List
Chapter Questionnaire
Thank you to all of my fellow Sigma sisters who have web pages.
Most of the graphics seen throughout my web page have been
"borrowed" from all the wonderful Sigma sites on the web.