Sigma Sigma Sigma


South Florida Alumnae Chapter
Fall 1999 Newsletter
Vol. 3, No. 2
Chapter Web Site (new address)
http://sigma3sofla.tripod.com/
---
Sigma Sigma Sigma Ever Forward
Welcoming the New Century.
Our Chapter is still growing. We are happy to announce that we have gained new members through our mail-outs, internet site and good old fashioned phone calls. It is so great to meet Sigmas in our community who are new to our Alumnae Chapter. If you have yet to make a meeting, please try to attend at least one this Spring. Why not make it a New Years Resolution to attend ONE meeting this Spring? I bet you will find it VERY SATISFYING!
National's have created a new logo to establish a consistent, recognizable image, to build greater visual identity for Tri Sigma, and to assist in reaching our growth and image goals as stated in the long range plan. The new log is three modern, platinum sails. The platinum color is an added accent to our official colors of purple and white. Ever Forward is the new slogan which shows that Tri Sigma always strives to move in a forward direction.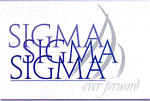 New Logo
September 12 - BID Day at FIU.
This was a great day for the Zeta Epsilon Chapter. They extended BIDs to 24 new members. It was an exciting day. The alums who participated in this event were transported back to their college days feeling the energy and excitement in the air thanks to the members of Zeta Epsilon.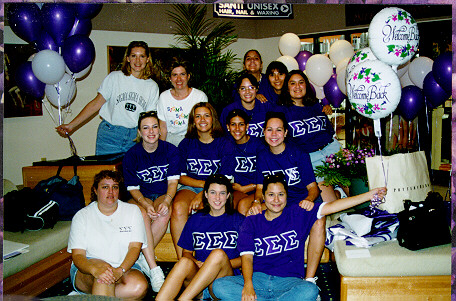 Collegiates & Alumnae at FIU's BID Day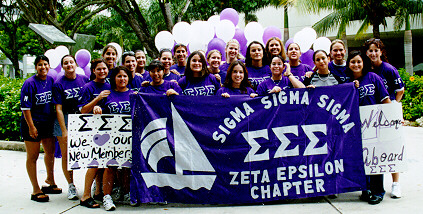 Zeta Epsilon Chapter
October 2nd - TGI Friday's Oak Square Mall
At this meeting we welcomed new member Christy Bales, Epsilon Nu, who contacted me through the internet. We planned for the November meeting at the Broward Partnership for the Homeless to read to the kids who lived there.
November 6th - Broward Partnership for the Homeless
Rachelle Phares, Alpha Kappa, arranged for us to read to the children who live at the Broward Partnership for the Homeless center. We all had a great experience and the kids were very excited to see the different variety of books each member donated. It was a very humbling and exhilarating experience. To many of the member's delight, the children read the books to us. Afterwards, we headed to Las Olas Boulevard for lunch at Mangos. We all agreed that this activity is one that would be worth repeating. (See March meeting below!)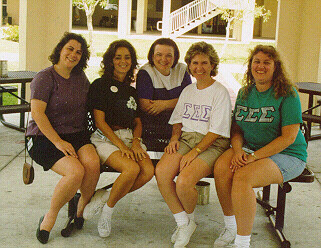 Suzanne, Rachelle, Sherry, Kim & Chris

Reading to the kids
December 4th - Holiday Party
Our Second Annual Holiday Brunch was held at Sherry Tarrio's home again this year. We collected items to welcome the collegiates back to school in January and also items off the wish lists of the Children's Hospitals in Dallas and Chapel Hill.
Spring meeting dates
The following are dates set for Spring 2000. Please mark them on your calendars. These dates are also posted on the Chapter's web site; http://sigma3sofla.tripod.com/dates.htm.
All dates, locations and times are confirmed unless noted. Please make an effort to attend.
January 22nd
Applebee's Restaurant - 9815 NW 41 Street, Miami, 12pm. Collect local dues, discuss meetings for coming year and plan for activities
DIRECTIONS
Take the Turnpike to NW 41 Street exit. Go east on 41 St. to 98 Ave. and it will be on the left.
March 4th
The Broward Partnership for the Homeless Center - 9:30 to 10:30 am then lunch on Las Olas Blvd. Please remember to bring books for any aged children. Remember that some of these kids read under their age limit and any type of books will be helpful. Also, any clothes or other things you want to get rid of would be appreciated. Most of these people are starting all over again. If you have access to the internet, you can go to Broward Partnership for the Homeless to see the letter and newsletter that was recently sent to our chapter.
DIRECTIONS: I-95 to Sunrise Blvd. Go east on Sunrise to NW 7th Avenue. When you get to SW 7th Avenue, go south (right). The center is directly on the left hand side (southeast corner).
Founder's Day - April 15th
Carol Metevier, who hosted Summer Fling '99 has volunteered to host this year's Founder's Day. Please bring a Brunch dish. The brunch begins at 11am. Please contact me at Sigma3SFla@yahoo.com for more information, address and directions.
Questionnaire
I have created a questionnaire that I need for you to fill out. It will benefit both you and the Alumnae Chapter. For instance, if you enjoy receiving the Newsletter and email from the Chapter, you can let me know. And, if you would rather not hear from us at all, you can let me know that too. It should take you one to two minutes tops to complete. Click Here for the questionnaire. The questionnaire will help the future plans and goals of the alumnae chapter.
Web site
Again, I am promoting our web site. I am continually promoting our web site. If you haven't visited it yet, I urge you to. The address has changed: http://sigma3sofla.tripod.com/. Check it out to see what you have been missing. There are pictures of meetings, Convention, Founder's Day, information about meeting dates, various links for other Sigma sites, past issues of this newsletter and much, much more wonderful Sigma information. Make sure you sign for IGive.com. It can be found on our Home Page. It is a great way for our Chapter to make money.
I hope everyone had a very happy and safe holiday season. See you all this Spring.
In Our Bonds,
The South Florida Alumnae Chapter
---